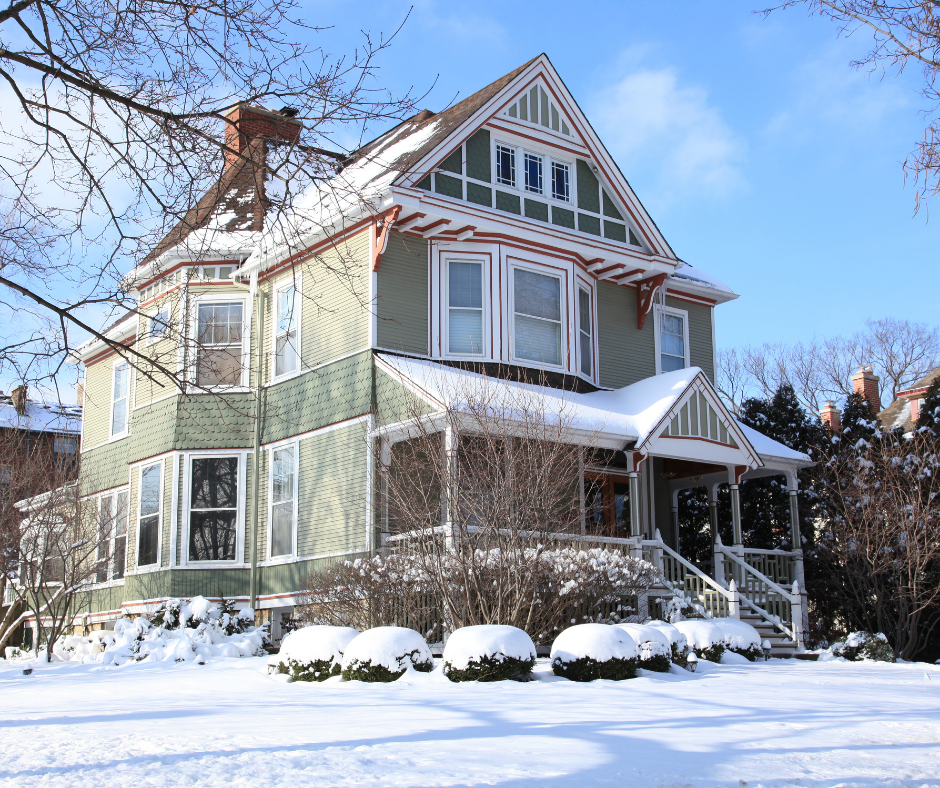 With the cold weather approaching and looming snow storms on the horizon, making sure you are prepared ahead of time is key to making it through the winter with as little stress as possible. We collected some tips to help make sure your home is ready to face the winter so you can be out enjoying your snow day instead of stressing about whether your home can withstand the elements.
Make Sure Your Pipes are Protected
Water expands when it freezes and can cause your pipes to burst. Most homes have insulation to protect your pipes, but if you have any that are unprotected, you can add insulation with a simple pipe sleeve. Just make sure the sleeves are tight against each other and seal them together with duct tape.
Weatherproof Your Home
With the cold weather approaching, it's a great idea to prevent cold air from coming into your home and letting any heat escape. Weather stripping is a simple way to make your home more efficient and will greatly reduce your monthly heating costs. Simple ways to improve your home's weather efficiency include installing a storm door or door sweep, or adding weather stripping your doors and windows.

It's also important to check your attic to make sure you have enough insulation. Most heat is lost from openings in the attic.
Fireplace Check Up
It's important to inspect your fireplace and chimney every year before turning it on. Having your chimney swept each year helps to clean out any animal nests, soot and other debris that may have accumulated in your fireplace throughout the year which can be a safety hazard.
Clean Your Gutters
Once the last leaves have fallen, it's a great time to have your gutters cleaned. Cleaning your gutters clears out any debris that can cause your gutters to clog and can prevent any melting snow from draining properly.
Invest in a Programmable Thermostat
Installing a programable thermostat allows you to set your heating preferences so it doesn't run on high all day when you aren't home. The best thing is, you can set it and forget it! Set your heat to lower when you leave for work, and bring the heat back up right before you return so your home is warm and cozy when you walk in the door.
Protect Your Outdoor Equipment
Just like any other weather elements, cold temperatures, snow and ice can damage your outdoor furniture and equipment, such as your grill. If you don't have a grill cover to protect it from the elements, first disconnect the propane tank, close the tank valve, and store the grill indoors or in your shed. The propane tank MUST BE be stored outside.

Now is also a good time to make sure your snow blower is working properly and that you have a reliable snow shovel. There's nothing worse than finding out your snow blower doesn't work when there are 10 inches of snow on the ground!
Change Your Furnace Filters to Maximize Efficiency
It's a good rule of thumb to change your filters every 3 months, but in case you forgot, now is a good time to make sure your filters are clean. A dirty filter obstructs airflow and makes it harder for your furnace to run and heat your home.
Winterize Your Roof
With just a few steps, you can make sure your roof is ready to face the winter elements and keep your home protected. You can always hire someone to do this for you, but here are some things to look out for.

Make sure there aren't any broken or missing shingles, damaged flashing, or any other deterioration

Clear any debris such as leaves and dirt

To prevent damage to shingles and gutters, cut back any overhanging branches that might cause destruction

Install snow guards

Check for water leakage stains in your attic or on your ceilings
Stock Up on Essentials
Make sure you have essentials on hand in case of a power outage or in case you get snowed in:

Snow shovel

Ice melt

Flashlight and batteries

Make sure phones are charged

Extra blankets, ice scraper, and jumper cables in your car

Water and no-preparation food (snack bars, pretzels, granola, etc)

Extra pet food and medication
Now that you can rest easy knowing your home can take on a snow day, grab your sled, put on your boots and gloves, and have some fun in the snow!
Source: Lowes